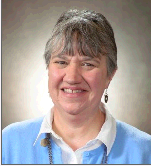 Mrs. Joyce Peterson, College & Career Advisor
Smoky Valley High School ~
Phone (785) 227-2909, ext 411
email: jpeterson@smokyvalley.org
This is my 32nd year with Smoky Valley Schools. I taught previously at Soderstrom Elementary and then served as the counselor at Marquette Elementary. I'm happy to work at SVHS as a "College, Career Advocate".
I work closely with Mrs. Charvat and Mr. McClure to help students with career exploration, job shadowing, and college visits. I also supervise students with online "electives" here at our school.
One of my favorite quotes is, "People don't care how much you know until they know how much you care," by Theodore Roosevelt. I'm happy to be part of the caring staff here at Smoky Valley High School. I work on Tuesdays and Wednesdays. Please call or email me.